Intern at Charles Aris Inc.

—
Charles Aris offers a unique year-round internship program encompassing a variety of roles in knowledge management and executive recruitment. With a customized approach focused on the student, we tailor each internship semester to the particular skills and growth potential of each intern rather than filling static roles requiring specific majors or skills.
If you are interested in research or data analytics, marketing or communications, graphic design or multimedia content creation – or even want to learn what it takes to be an effective recruiter – we can help you achieve your goals.
If you are a postgraduate or undergraduate student who can bring the following qualities to the table, we would be interested in discussing the possibility of a Charles Aris internship with you:
Are you …
intellectually curious?
willing to learn and contribute every day?
a reliable time manager?
willing to take ownership of your projects?
able to work independently as part of a team?
working toward a postgraduate or undergraduate degree?
the proud owner of a sense of humor?
Then you will love interning with us as you gain …
hands-on experience an exposure to Fortune 500 firms and other industry leaders
exposure to the highest levels of our Top 25 national search organization
your own customize path to build the skills you need to reach your academic and career goals
access to a network of professionals and staff functions including lunches, outings and more
a state of the art building and ambitious culture
 Interested in an internship at Charles Aris Inc.? Send us your résumé today! 

2018 Fall Interns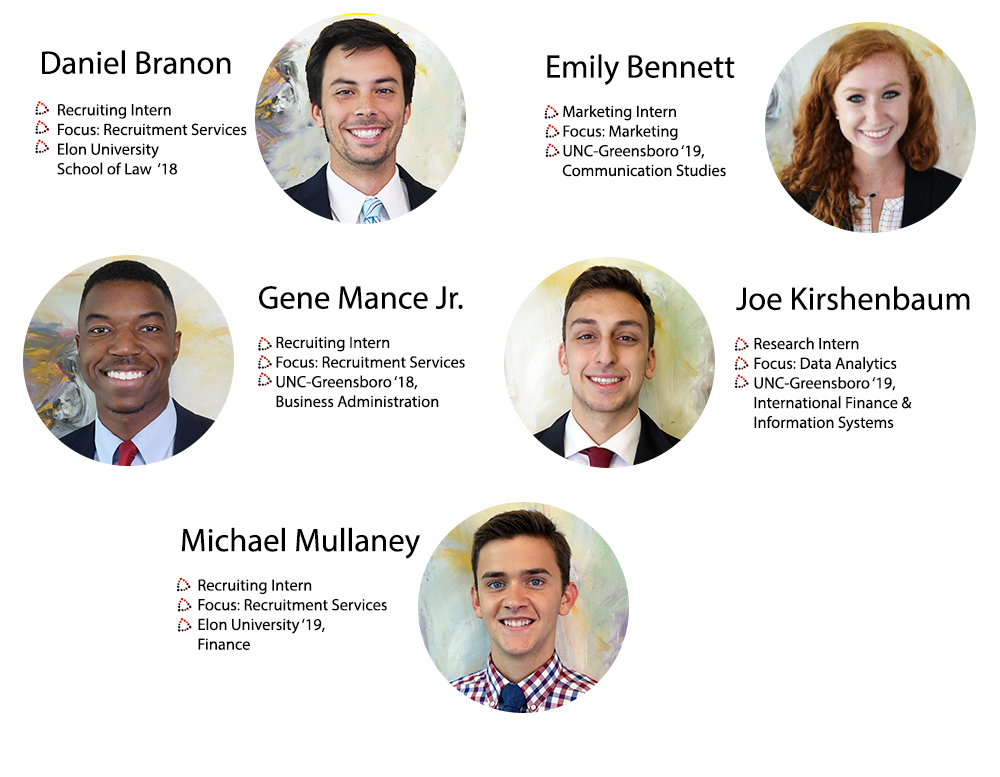 —-
Former interns have attended these colleges and universities

What Charles Aris internship alumni have to say …
"Charles Aris Inc. offers a great internship program for students / individuals who want to work in an environment that facilitates growth, teamwork and creativity. As a three-time Digital Marketing intern with Charles Aris, I had the opportunity to write blog posts, manage the company's website and assist in creating promotional videos. If you are looking for an internship that challenges you, offers you real-world experience and allows you to lead your own projects, then CAI is the place for you."
– Malia Brown, 2016 UNC-Chapel Hill graduate
"I thoroughly enjoyed my internship experience at Charles Aris. As a three-time intern, I got to work on many company projects on a wide range of subjects. Brian Styers, my internship coordinator as the firm's senior director of knowledge management, is very receptive to new ideas and is eager to implement them while teaching valuable lessons along the way. I've learned to think like an editor when creating and posting content on the company's digital channels. Knowledge Management team members and my fellow interns exposed me to useful software and processes for analyzing data, managing projects and maximizing marketing efficiency. Most of all, I've been able to use my strengths of video editing and creativity to write, direct and produce several company videos which showcase the essence of Charles Aris culture. Afterward, I was humbled (and admittedly shocked) to be offered a full-time role with the company. Starting my post-MBA career here is great because I know I'll continue to learn and grow professionally and personally each and every day. P.S. – The new building is sweet!
– William Nesmith, 2016 UNC Greensboro MBA graduate
"The people are great to work with. They encouraged me to speak up and ask questions. From shadowing senior researchers Lauren Lunsford and Ben Wolf, I learned about the executive search industry, American business practices and the latest research methods. Brian Styers, my internship coordinator, was very approachable and a solid mentor for my personal and professional development."
– Runnan Zhang, 2017 UNC Greensboro graduate

"Thank you, Charles Aris Inc., for including me in your recent search. You have a very professional and efficient screening process. It is obvious how you have earned the reputation that you have in the industry — among the very best."
— The CEO of a brand-name consumer products manufacturer