Intern at Charles Aris Inc.

—
Charles Aris offers a unique year-round internship program encompassing a variety of roles in knowledge management and executive recruitment. With a customized approach focused on the student, we tailor each internship semester to the particular skills and growth potential of each intern rather than filling static roles requiring specific majors or skills.
If you are interested in research or data analytics, marketing or communications, graphic design or multimedia content creation – or even want to learn what it takes to be an effective recruiter – we can help you achieve your goals.
If you are a postgraduate or undergraduate student who can bring the following qualities to the table, we would be interested in discussing the possibility of a Charles Aris internship with you:
Are you …
intellectually curious?
willing to learn and contribute every day?
a reliable time manager?
willing to take ownership of your projects?
able to work independently as part of a team?
working toward a postgraduate or undergraduate degree?
the proud owner of a sense of humor?
Then you will love interning with us as you gain …
hands-on experience and exposure to Fortune 500 firms and other industry leaders
exposure to the highest levels of our Top 25 national search organization
your own customized path to build the skills you need to reach your academic and career goals
access to a network of professionals and staff functions including lunches, outings and more
a state of the art building and ambitious culture
 Interested in an internship at Charles Aris Inc.? Send us your résumé today! 

2018 Fall Interns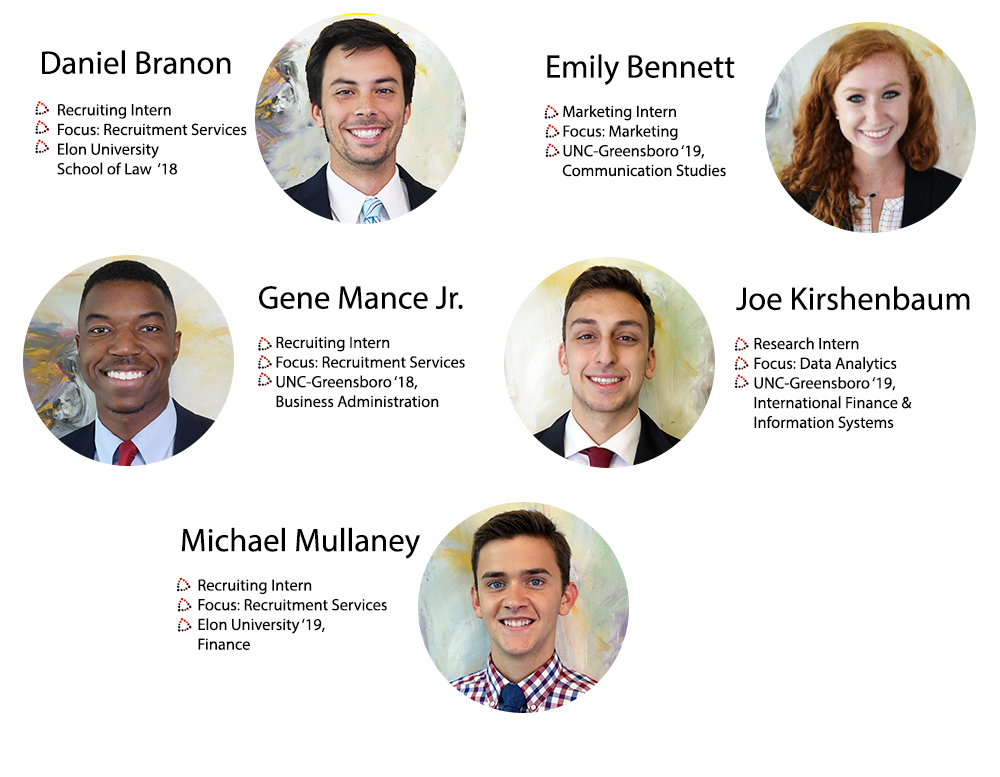 —-
Charles Aris intern honor roll

What Charles Aris internship alumni have to say
"Whether you plan to be a recruiter or not, this internship is one of the best ways to get exposure to the business world, as well as to senior leaders both internally and externally. It's a collaborative and faced-paced environment where you can and should take advantage of every single opportunity and resource Charles Aris offers. Expect to work hard, learn a lot and discover whether executive recruiting is the career path for you."
– Devin Treger, 2018 High Point University graduate
"Interning with Charles Aris offered me widespread exposure – to the executive search industry and international business – that I otherwise would not have gotten. This, along with the opportunity to work alongside and learn from mentors such as research manager Ben Wolf and senior researcher Varina Keeling-Herrera, made it an easy decision to join the team as a full-time researcher come graduation. It was, without a doubt, the best decision I could have made for my professional and personal development."
– Carly Sprinkles, 2018 UNC Wilmington graduate
"'Exciting, motivating, fast-paced and rewarding' are just a few words that describe my internship. Every day I come in excited to work with such talented and driven people. When talking with clients and candidates, you never know what you're going to get – and for me that's exhilarating. In my short time at Charles Aris, I've learned that if you have grit, passion and a willingness to take charge of your own success, you have a great opportunity to excel at the firm."
– Gene Mance Jr., 2018 UNC Greensboro graduate
"My marketing internship allowed me to learn new skills such as Photoshop and copywriting, both of which will be invaluable for my future career in social media and digital marketing. The team was so supportive and gave me the feedback and advice I needed to grow as a young professional."
– Caitlyn Banks, 2019 UNC Greensboro MBA graduate

"Thank you, Charles Aris Inc., for including me in your recent search. You have a very professional and efficient screening process. It is obvious how you have earned the reputation that you have in the industry — among the very best."
— The CEO of a brand-name consumer products manufacturer