Helpful tips to reduce the stress of moving for a new job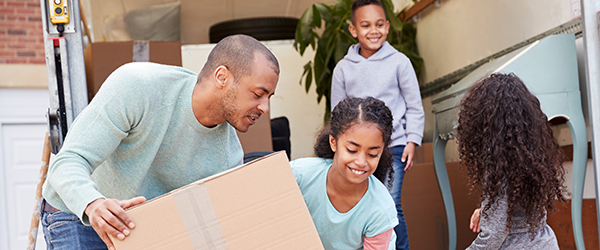 You just made one of life's most difficult decisions by choosing to move to a different city after accepting a new role. You may have visited this location on a business trip or vacation but never spent more than a handful of days there.
Between finding a place to live; organizing movers; packing up your belongings; closing out your current job; preparing for your next job; and of course, the emotion of leaving friends and family – it's normal to feel overwhelmed. Here are a few tips to help make the transition as smooth as possible:
When hiring movers, confirm and verify dates ASAP
Unless you're planning to pack up and transport your belongings yourself, you'll need to hire a moving company. They often work months in advance and the best ones get booked up quickly, especially if you're crossing state lines during the summer season. It's also a good idea to research and verify that the company is in good standing by visiting the U.S. Department of Transportation's website.
Use online tools and resources to research your new city
In a perfect world, you'd be able to scout potential neighborhoods by visiting them in person. However, if circumstances prohibit you from traveling to the location, there are tools at your disposal like Google Maps, Niche.com and NeighborhoodScout. On Google Maps, you're able to view an address at street level as if you were there. From this view, it's also beneficial to look around the downtown area, local parks and other points of interest to get a better feel for the area as a whole. Niche.com offers plenty of data and insights into nearly every town in the United States, while NeighborhoodScout digs a little deeper into what you can't see by sharing in-depth reviews and profiles of specific neighborhoods.
Another great – and often overlooked – resource is a city's official website. You can learn about local events and attractions while gaining a better understanding of the community ethos that third-party sites don't typically convey.
Plan ahead
Take care of as much as you can as early as possible. Waiting until the last minute to pack, send in paperwork to start your new job and take care of outstanding responsibilities in your current job will cause unnecessary stress. Planning ahead will put you on the right path for a successful start in your new role and a pleasant transition to your new city!
To help with your next move, please visit the Relocation Information page on our website for guides on over 30 locations across the United States.
SIMILAR ARTICLES
Private Equity & Asset Management, News
Charles Aris Inc. is excited to announce the launch of its newest venture: Charles Aris Transaction Services LLC.
Human Capital
Like any paradigm shift, remote work is beginning to pose challenges few could have predicted at its start.