The new era of workplace wellness at Charles Aris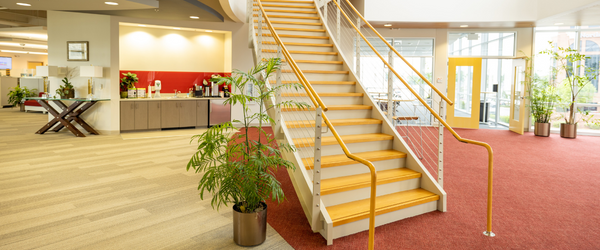 Covid-19 changed the way we work, and it changed the relationships we have to our health and wellness.
After the initial stay-at-home orders in 2020, Charles Aris adopted a remote work model to prioritize our team's health. We then used that model to accommodate our employees during ongoing coronavirus spikes and, eventually, gave our firm the option to work from home full-time, come back to the office or do a combination of both – indefinitely.
These decisions were necessary at the height of the pandemic, but as the world slowly returned to normalcy over the past year, our team realized how important it is to have a choice over where and how we work moving forward.
Now, our employees can be where they want when they want, and this flexibility has allowed us to further pursue wellness both inside and outside of the workday.
Travel has been a major advantage for our team since adopting the choose where you work model. Our employees feel more empowered to visit family, see friends and explore the world – sometimes for weeks or months at a time. With good Wi-Fi being the only necessity, there are few barriers to being in a new place.
In fact, we've had employees clock in from every corner of the nation, from New York City to the Southwest. Our team has traversed highways, visited important landmarks and stuck the Charles Aris flag in the ground all around our country. Since 2021, we've even had team members clock in from as far away as Spain.
But our wellness journey doesn't end with travel. Throughout the past year, we've also integrated firmwide activities into our culture to promote healthy meditation, social events and exercise. Every month, our Wellness Committee shares a newsletter with nutritious recipes and guided meditations or breathing exercises, which ensures Charles Aris team members have the resources to prioritize their wellbeing during the workday.
Alongside these healthy tips and recipes, we've engaged in multiple wellness challenges throughout 2022. We tracked our active minutes, challenged ourselves to drink more water and even coordinated the first ever Charles Aris basketball tournament! While many of these challenges were made to accommodate the ongoing shift to remote work, the basketball tournament was especially meaningful because it was one of the first in-person wellness events put together since the beginning of the pandemic.
Hosted at the University of North Carolina Greensboro's Kaplan Center, the friendly tournament was held between six teams of voluntary Charles Aris players, with the rest of our staff cheering, announcing and viewing from the sidelines. We're excited that our employees are currently living and working around the country, but we're also honored that the Charles Aris team is willing to fly to our headquarters and participate in a wellness event like the basketball tournament.
The past two years have been difficult for people all around the world, so we're proud that we've adapted in the ways we did and that we now have a deeper appreciation for our wellbeing at Charles Aris. In 2023 and beyond, we plan to continue integrating wellness with our work, and this will remain a cornerstone of our powerful company culture.