Meaningful conversations: How our deal-sourcing team connects with founders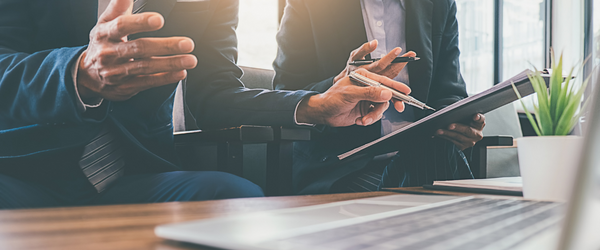 We launched our transaction services business with the guiding philosophy that meaningful conversations lead to successful deals.
When Charles Aris Transaction Services officially opened its doors in 2022, its new managing director, Sean Curley, brought decades of experience, including M&A transactions on both buy-side and sell-side. Founder Mitch Oakley also came prepared with over half a century of excellence in executive search, which helped lay the foundation for how our deal-sourcing business operates today.
Along with the leadership and resources Charles Aris Transaction Services utilizes from Charles Aris Inc., we attribute our early success to following the proven sourcing processes our firm developed through talent recruiting – most notably, the emphasis on having meaningful conversations.
Engaging in meaningful conversations is more than a suggestion at our firm; it's one of the main drivers of our business. When our executive recruiting team kicks off a new search, we first use our custom research tools to identify prospective candidates. Then, we pick up the phone to engage these individuals by having honest and genuine career discussions. Our proven success in talent acquisition doesn't come from reviewing lists of names, it comes from the relationships we develop every day.
At Charles Aris Transaction Services, we follow this same process to engage business owners. By creating real relationships with real individuals, we ensure that our prospective business acquisition targets are 1) qualified to fit our clients' acquisition specifications, 2) available to pursue a relationship and 3) interested in taking the next step. This is how we initiate transformative business deals.
In fact, we coordinated our first deal for an existing Charles Aris Executive Search client who, after employing our firm to find A-level executive talent, asked Mitch to assist them in landing a new business acquisition. Mitch had never sourced a business acquisition target but agreed he would do so by using the firm's existing talent-sourcing process and applying it to this space.
Armed with the foundation he built to find and place coveted leaders within top organizations, as well as the muscle memory of picking up the phone and engaging qualified, available and interested prospects, Mitch was successful. His first engagement landed our client a platform and an add-on acquisition, and we continue to develop the pipeline for this platform.
Seeing the potential our sourcing processes offered in the acquisition space, we've since turned Charles Aris Transaction Services into a full-fledged company and are actively working to help clients reach their growth targets across a multitude of industries.
At our firm, we often reference "polite persistence" as a driving force behind our business, but this principle is only successful when bolstered by meaningful conversations. As we look towards our future in the deal-sourcing space, this human-first approach will continue to be at the forefront of our business philosophy and long-term success strategy.
Are you looking to grow your business through acquisition? Contact Managing Director Sean Curley at (336) 217-9125 or sean.curley@charlesaris.com to learn how we can partner to support your needs.