Celebrating 'togetherness' during the 2022 InterSearch conference in Frankfurt, Germany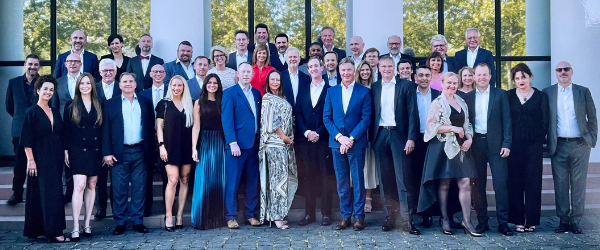 InterSearch, a global network of retained executive search firms, gathered from May 13-15 in Frankfurt, Germany for its first in-person conference since the onset of the Covid-19 pandemic.
Allen Oakley, COO at Charles Aris, attended on behalf of our firm to join international partners in discussing the conference's overarching theme of "togetherness," and to welcome the newest InterSearch member organizations: Ageo International, Grant Alexander and Green Park.
While Oakley describes Charles Aris's continued InterSearch membership as "at its core, an opportunity for business development and referral," he claims that having an international network of partners means so much more from a solidarity perspective, a point made clear by the emotional reunion at the recent conference.
"With the impact Covid-19 has had on business and mental health, being able to come together in person was an emotional moment," Oakley said. "I think that speaks to how deep the relationships are at InterSearch."
In tune with the conference's theme, many of the conversations in Frankfurt explored how member organizations can continue to support each other as countries around the world face the continued threat of Covid-19, as well as newer issues of global inflation, a tight talent market and conflict in Europe.
In the early stages of the pandemic, InterSearch partners worked together to help each other embrace virtual work, a new concept for many firms. Today, partners continue to find referrals for InterSearch firms operating in areas under economic strain and to discuss strategies for navigating worldwide industry trends.
The ability to crowdsource approaches to global economic change, as well as changes in the way people work, is one of the main perks of InterSearch, alongside the more personal benefits employees of its member organizations get from having a supportive network of individuals around the world. An InterSearch press release sent after the conference said its members will remain diligent in supporting colleagues displaced by the Russia-Ukraine conflict and that InterSearch is holding out hope for a timely resolution.
Oakley remarked that the "humanness" expressed at the Frankfurt conference confirmed to him that employees of member organizations can always reach out to one another, not only to help write business but also to have a personal resource in so many countries available if needed.
He added that with the addition of three new member organizations, "we're going to continue to innovate, get better, support our clients and find world-class talent – and we're going to continue doing it together; there is no country at InterSearch that flies solo."
For more information about Charles Aris's partnership with InterSearch, click here. To learn more about what InterSearch does globally, visit its website.